Veteran's Day Parade
Monday, November 11th, Parade starts 10:15 AM. If you going to march please line up at RJO School by 9:45 AM.
Fall Irish History Class
Tom o'Reilly will be hosting Irish History Classes, St Joseph's Church, Travis Hall. All classes will be on Mondays from 1:00 PM to 3:00 PM on the following dates:
September 30th, October 7th, 21th, 28th, November 4th, 18th,
December 2nd, 16th.
There is no fee to attend classes
Annual Mass for the Deceased
​
Mass will be held on Sunday December 8th, 4:00 PM, Travis Hall, St. Joseph's Church. A Reception will be held after the Mass.
​
Dues
Annual dues are payable in January of the current year and are good until December 31st of that year. Please send your appropriate dues to your financial secretary or you can bring it to the next meeting. See either Men's Financial Secretary Dennis Adrian or Ladies Financial Secretary Patricia Pells. Please keep in mind that the Division has to pay the State and National dues for every member in the Division. In order to do that, we need you to keep your dues current.
Hibernian Sashes
Anyone interested in purchasing a Hibernian Sash, the cost is $45.00 each. Please contact Carol Clancy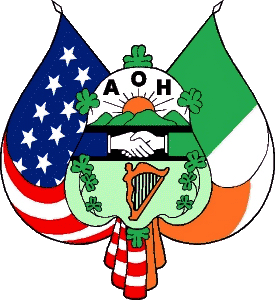 AOH Polo Shirts
​
We have a limited amount of Polo Shirts at a discounted rate of $10.00 per shirt. 2-XL and 3-Med. E-mail us at to reserve you shirt.