Mission and Charities Fundraiser
​
LAOH Fundraiser Saturday, February 15th, Travis Hall 7:00 PM. Trivia Night with Duke of Duke's K9 Spa. $20.00 per Person includes Wine, Beer, non Alcoholic Beverages, Snacks and Desserts. Click the Dog to download the Flyer
Kings Park St Patrick's Day Parade
Saturday March 7, 2020 12:00 PM. Grand Marshal for this years parade is one of Division 3 Members, Jim Girvan! Hibernian Members, interested in carrying a County Flag?,
contact Rich Johnston for details.
St Patrick's Day Dance
Save the Date, Saturday, March 14th, Travis Hall. This years Hibernian of the the year is Mary Herbert. $40.00 per person includes dinner, open bar and music by Good Clean Fun. Click on the shamrock to download the flyer.
Dues
Annual dues are payable in January of the current year and are good until December 31st of that year. Please send your appropriate dues to your financial secretary or you can bring it to the next meeting. See either Men's Financial Secretary Dennis Adrian or Ladies Financial Secretary Ruth Bedell. Please keep in mind that the Division has to pay the State and National dues for every member in the Division. In order to do that, we need you to keep your dues current.
Hibernian Sashes
Anyone interested in purchasing a Hibernian Sash, the cost is $45.00 each. Please contact Carol Clancy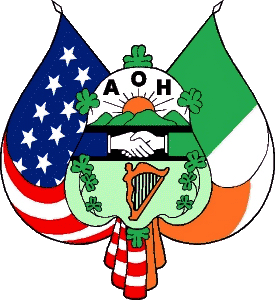 AOH Polo Shirts
​
We have a limited amount of Polo Shirts at a discounted rate of $10.00 per shirt. 2-XL and 3-Med. E-mail us at to reserve you shirt.